Ankillersaurus

アンキラーザウルス

Name
Ankillersaurus
Kanji/Kana
アンキラーザウルス
Name (Italian)
Ankillersauro
Released in (Japanese)
SD01- Blazing Thunder, Shounen Gekiha Half Deck Set, Battle Spirits Choco Wafers X Double
Released in (English)
BS05- Dawn of the Ancients
Released in (Italian)
MA01
Color
Red
Cost
2
Reduction
1 Red
Symbols
1 Red
Family
Terra Dragon
Levels
Level 1: 1 core, 2000 BP
Level 2: 2 core, 3000 BP
Level 3: 3 core, 4000 BP
Card Effects

English
[LV1][LV2][LV3] (During the Battle Phase) While you control a spirit with Evolution or Rage, this spirit gets +1000BP.

Japanese
Lv1・Lv2・Lv3『お互いのアタックステップ』自分のフィールドに【覚醒】/【激突】を持つスピリットがいる間、このスピリットをBP+1000する。

Flavor Text

English/Japanese
They are assigned to deliver follow-up attacks. They advance behind the spearhead and charge the enemy.

Japanese
追撃があいつらの役割だ。

先陣の後に続いて突撃するんだと。

Rarity
Common
Illustration
Yuu Tsurumi (art), Ryou Hirata (concept)
Rulings/Restrictions
None
Appearances:
Edit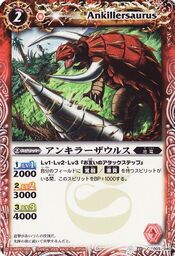 Ad blocker interference detected!
Wikia is a free-to-use site that makes money from advertising. We have a modified experience for viewers using ad blockers

Wikia is not accessible if you've made further modifications. Remove the custom ad blocker rule(s) and the page will load as expected.