Arcanaprincess-Un

アルカナプリンセス・アン

Name
Arcanaprincess-Un
Kanji/Kana
アルカナプリンセス・アン
Released in (Japanese)
BS03
Released in (English)
BS03- Scars of Battle
Color
Yellow
Cost
6
Reduction
Symbols
Family
Magician
Levels
Level 1: 1 core, 3000 BP
Level 2: 3 core, 4000 BP
Level 3: 4 core, 6000 BP
Card Effects

English
[LV1][LV2][LV3] (When Attacks) This spirit gets +1000 BP for each spirit you control that has "Arcana" in its name until end of turn.

[LV2][LV3] (Permanent) All spirits you control with a cost of 3 are treated as spirits that have "Arcana" in their names.

Flavor Text

English/Japanese
It seems like the royal family of the land of trump has three siblings and the oldest sister looks like a troublemaker.

Rarity
Uncommon
Illustration
Kouki Saitou
Rulings/Restrictions
None
Trivia:
Related to: Arcanabeast-Ken, Arcanadoll-Pan, Arcanaprince-Obero, Arcanadoll-Tria, Arcanabeast-Paira, Arcanabeast-Hart, Arcanasoldier-Cinq, Arcanafighter-Quatre, ArcanaKing-Charle, ArcanaKnight-Hex, ArcanaQueen-Pallas, Royal Straight Flush, Arcanabeastqueen, The Spring of Full Magical Powers
Gallery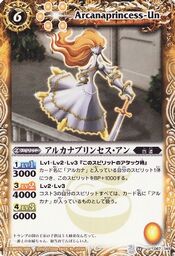 Ad blocker interference detected!
Wikia is a free-to-use site that makes money from advertising. We have a modified experience for viewers using ad blockers

Wikia is not accessible if you've made further modifications. Remove the custom ad blocker rule(s) and the page will load as expected.