Armetcrab

アーメットクラブ

Name
Armetcrab
Kanji/Kana
アーメットクラブ
Released in (Japanese)
BS05
Released in (English)
BS04- Ascension of Dragons
Color
White
Cost
1
Reduction
0
Symbols
Family
Flying Fish
Ability
Immunity (Armor)
Levels
Level 1: 1 core, 1000 BP
Level 2: 2 core, 3000 BP
Card Effects

English
[LV1][LV2] Immunity:Yellow -This Spirit is unaffected against the effects of all opposing Spirits, Nexus, and Magic Cards of the Colors stated above.

Flavor Text

English/Japanese
Floating silently. Without being exhausted, it floats forever. However, it has no power to fight. It just clings to the invader and waits to perish.

Rarity
Common
Illustration
Mila Aizawa
Rulings/Restrictions
None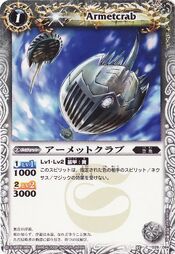 Ad blocker interference detected!
Wikia is a free-to-use site that makes money from advertising. We have a modified experience for viewers using ad blockers

Wikia is not accessible if you've made further modifications. Remove the custom ad blocker rule(s) and the page will load as expected.