Battle Spirits Brave
Comments

2
4,539pages on
this wiki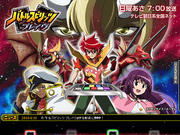 Battle Spirits: Brave (
バトルスピリッツ ブレイヴ
) is an anime inspired by Bandai's Battle Spirits trading card game, and produced by Sunrise. It is a sequel to
Battle Spirits Shounen Gekiha Dan
. It began airing September 12th, 2010 at 7:00 AM on TV Asahi's Sunday Morning Kids Block.
It was directed by Akira Nishimori, and composed by Atsuhiro Tomioka. Character designs were provided by Yoshinori Yumoto and Tetsuya Ishikawa. For more information on this anime's staff, see Brave Staff by Episode.
This series is currently licensed and dubbed in Italy and Thailand. There is no official English language version.
Succeeded by Battle Spirits Heroes.
Plot
Dan wishes to have exciting battles like in Grand Rolo again. He gets his chance when Mai invites him to the future, where the humans are being conquered by demons. There, he joins the crew of The Beautiful Sophia, and creates a deck based upon the newest type of cards, Brave.
Characters
Main
Mazoku
Other
Episodes
Music
Opening theme:
1: "Free" (eps 1-50)
Lyrics, Composition: Tatsuro / Arrangement: Takayuki Kato / Performance: Karasu
Ending themes:
1: "Netsuretsu ANSWER" (熱烈ANSWER; Passionate ANSWER) (eps 1-49)
Lyrics: Aki Hata / Arrangement: Takeshi Masuda / Performance: Daisuke Ono
2: "Kimi ga Matteru" (君がまってる; Waiting for You) (ep 50)
Lyrics, Composition, Performance: Mitsuhiro Oikawa / Arrangement: Takano Rose
BGM
Battle Spirits Original Soundtrack
Related Articles
Battle Spirits Brave X (manga)