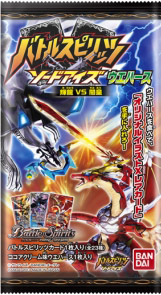 Battle Spirits Sword Eyes Wafers ShineDragon vs. DarkEmperor was a candy toy set. It came with a chocolate candy, and random card. Three X-Rares, The ShineCentaurusDeity Sagitto-Apollodragon, The ShineDragon Shining-Dragon and The DarkEmperor Ninetail-Dark, were available. All cards were previously released. The set included spirit and magic cards in the colors red, purple, green, white, yellow and blue.
All of the cards either contained alternate artwork, or had an image of a character from Battle Spirits Sword Eyes on the side.
Ad blocker interference detected!
Wikia is a free-to-use site that makes money from advertising. We have a modified experience for viewers using ad blockers

Wikia is not accessible if you've made further modifications. Remove the custom ad blocker rule(s) and the page will load as expected.