Welcome to the Battle Spirits Wiki
Battle Spirits, (バトルスピリッツ) is a two-player collectible card game developed by Bandai, Sunrise Inc, and Carddass. The card game is part of the Battle Spirits franchise which revolves around several anime series, manga and the merchandise of toys and video games. Battle Spirits is similar to the TCG Duel Masters but is more evolved as it involves a core system which is used as a resource system for your players. I would like to welcome you to this wiki and I hope that you can be part of our community.
The goal of this wiki is to list every card, set, trivia, gallery, ruling, type of Deck, tournament structure and every anime, manga and video game. If you're a committed Battle Spirits player, or just stopping by, feel free to add in little details to the appropriate sections on this Wiki.
Thank you.
Card of the Month
The latest featured card is one of the first XX-Rare's in Battle Spirits. BS31's The SixAbsoluteDeities Impenetrable-Chrome-Riservar] Despite having a mouthful of a name, it's a very interesting new spirit.
First, Riservar is a Crystalline Deity, currently a very rare family, and most notable for including The AbsoluteDragonDeity Amaterasu-Dragon. It has a cost of zero, and one white symbol. You might think being part of a family that doesn't have an arsenal of support cards, and a cost of zero would make it pretty useless… but you'd be wrong.
This cost 0 spirit does not have the BP you would expect. It starts off with 5000, and at LV2, for three core, it has 10000. No, this is not terribly high, especially factoring in ultimates. But it isn't weak either, and for a spirit you can summon so cheaply, possibly on the very first turn, it's monstrous. The key to best using this spirit is to send it out early.
However, to summon this spirit, there is a catch. If you have any spirits on your field which are not white, the cost of the spirit becomes 8. When it's that high, you probably don't want to bother summoning it, so best to use this in an all or mostly white deck.
As for effects, the spirit has Ultra Immunity at both levels. Awesomely, the ultra immunity applies to all six colors. You don't have to worry about cost destroy or even BP destroy effects removing the spirit from your field. Or… any effect at all. Except due to Braves, unfortunately.
Once Riservar gets to level two, its previous effect improves. If your life is brought down to one, then all of your white spirits are unaffected by all opposing effects. This is another reason why this spirit works best in a mainly white deck. While if your life is down to one, you're probably in trouble, this is a great example of white's defensive strength. It could keep you holding on a bit longer than usual, enough to make the comeback you need.
Another issue this spirit has is braving. That would be a good way to boost its BP. However, there are not many cards capable of braving with a cost zero. Your best bet would be The SatelliteMachine Pioneer V. It gives a 3000BP boost, and then an additional 3000BP when blocking. 16000 is sounding a lot better than 10000. Gyokuzeeg and Hihi-Bone also can, but both will give only a 2000 BP boost, and neither have particularly special effects. The former has anti-burst abilities, and the later has Curse. Also, neither are white.
A card that would work well with Riservar is the nexus The Permafrost Capital. When your life would be brought to zero, buy sending the nexus to the trash, your life remains at one. This would allow you to make even longer use of Riservar's LV2 effect.
Basically, this spirit is one designed for early game destruction, and powerful defense by the later stages of the game. It is, as mentioned earlier, best if you can summon it as early as possible. Though not without faults, the XX-Rare card succeeds in being worthwhile, and brings some unique things to the game.
Check out the previous Cards of the Month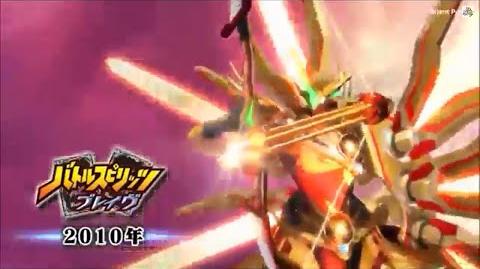 Which of Rei's forms is your favorite(Part 2)?
Click here for the results of previous polls