Home
Talk

2
4,864pages on
this wiki
Welcome to the Battle Spirits Wiki
Battle Spirits, (バトルスピリッツ) is a two-player collectible card game developed by Bandai, Sunrise Inc, and Carddass. The card game is part of the Battle Spirits franchise which revolves around several anime series, manga and the merchandise of toys and video games. Battle Spirits is similar to the TCG Duel Masters but is more evolved as it involves a core system which is used as a resource system for your players. I would like to welcome you to this wiki and I hope that you can be part of our community.
The goal of this wiki is to list every card, set, trivia, gallery, ruling, type of Deck, tournament structure and every anime, manga and video game. If you're a committed Battle Spirits player, or just stopping by, feel free to add in little details to the appropriate sections on this Wiki.

Thank you.
Card of the Month
This month's featured card is the blue X-Rare of BS29, The GiantSwordSaint Eaglen.
Eaglen's cost is 9, with four blue reduction and two ultimate reduction. It has two symbols. However, that probably isn't enough to make up for the cost, while factoring in the spirit's BP. It has 9000 at LV1, 11000 at LV2 for 3 core, and 15000 at LV3, for a rather expensive six core. This is definitely a spirit which would benefit from being braved.
Eaglen's effect, at all levels, only activates when the spirit is summoned. This is another point not in its favor, unless you utilize cards like Time Reap. The effect is that you reveal the top 7 cards on your deck. You can summon any cost 8 or less Sword Master spirits or ultimates at no cost/ignoring their summon conditions. They can't activate their [When Summoned] effects. You must discard the rest. The effect is definitely a gamble. On one hand, it could work extremely well in your favor. Some Sword Masters have pretty high costs, like The DragonShineDeity Shining-Dragon-Overray (8), which you wouldn't have to worry about paying. And also, you can mix colors much easier if you don't have the cost or summon condition to deal with. However, you might just end up discarding a lot of cards if you're not lucky.
After this effect, Eaglen does have rush. The activation condition is a potentially tricky one of two ultimate symbols, but the color of the ultimates makes no difference. You can return two Exalted Sword brave cards from your trash to your hand. Again, you'll likely only get to use this once, as it's the rush following a [When Summoned] effect. But it could be quite useful. If you were able to bring some Sword Masters onto your field, you can now brave with them. Or, with Eaglen itself, which might bring it up to a triple symbol.
The above-mentioned Shining-Dragon-Overray would be a very useful card to have in a deck with The GiantSwordSaint Eaglen. It allows all Sword Masters (which Eaglen is a member of) to combine with two braves. Bringing its two symbols all the way up to 4 would make it way more worthy of the cost.
A good card to mix with The GiantSwordSaint Eaglen is The Sleeping Sword Emperor's Mausoleum. With this nexus, when your Spirits and Ultimates in the family "Sword Master" attack, you destroy 1 opposing Spirit with Cost 6 or less. Very useful if you brought some Sword Masters onto the field.
This spirit, essentially, is sort of weak and very costly on its own. However, it would make for a very destructive support card in a Sword Master-themed deck.
Check out the previous Cards of the Month
Upcoming supplementary boosters include BSC18, a second Diva-themed pack, and BSC19, a collaboration which is based on Toho monsters.
A new anime series is beginning in April 2015. Character designs from the 1/2015 Saikyo Jump reveal that it will feature a new cast. The series is titled Battle Spirits Burning Soul.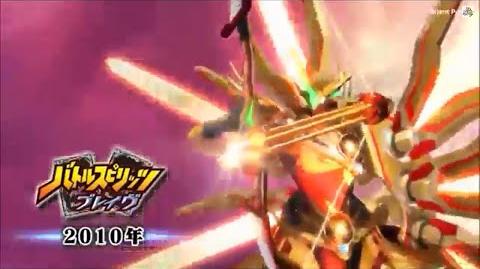 Which of Rei's forms is your favorite(Part 2)?
Click here for the results of previous polls