Home
Talk

2
4,538pages on
this wiki
Welcome to the Battle Spirits Wiki
Battle Spirits, (バトルスピリッツ) is a two-player collectible card game developed by Bandai, Sunrise Inc, and Carddass. The card game is part of the Battle Spirits franchise which revolves around several anime series, manga and the merchandise of toys and video games. Battle Spirits is similar to the TCG Duel Masters but is more evolved as it involves a core system which is used as a resource system for your players. I would like to welcome you to this wiki and I hope that you can be part of our community.
The goal of this wiki is to list every card, set, trivia, gallery, ruling, type of Deck, tournament structure and every anime, manga and video game. If you're a committed Battle Spirits player, or just stopping by, feel free to add in little details to the appropriate sections on this Wiki.

Thank you.
Card of the Month
Sorry for the break last month. We're starting off again with the promo, The UltimateHeroDragon Ultimate-Yamato. It's a red Ultimate.
Yamato has a cost of 8, 3 red reduction, and one ultimate symbol. Not the best reduction, but the cost could be worse too. Of course, it is a burst card, which makes it easy to bypass the regular summon cost. In terms of BP, it's definitely a killer. It starts out with 13000, then 17000 at LV4 (for three core), 25000 at LV5 (for 5 core), and 40000 once it gets to LV6. It'll cost you 8 core, but that is a BP which can demolish most any card. It may not even need to get that high, as it's 25000 is destructive enough.
Its summon condition is a standard one for ultimates. You need one or more red spirit on your field.
The burst condition is less simple than the summon condition, however, as your life must be three or less. Then, you can destroy an opposing ultimate with 20000BP or less, and summon Ultimate-Yamato. That burst effect is lethal, making the harsher activation conditions seem much more fair. Of course, there are enough Ultimates who do exceed 20000, so that still might not be enough to get rid of a problematic opposing Ultimate.
Once leveled up, this Ultimate gains a U-Trigger effect. When it hits, if your ultimates are blocked by spirits (any ultimate, so it's not limited to this one), you can move 1 core from your opponent's life to their reserve. This forces your opponent to block with their ultimates, in order to protect that life. And of course, if you wiped out the only ultimate on their field with Ultimate-Yamato's burst effect, that puts you in a great position to utilize this effect.
Now, if you want to bypass the burst conditions, you could use the card Ryuuman-Lightning. It allows you to activate a red burst from your hand when your Incarnate or Dragon spirits are destroyed.
Naturally, look out for cards that can target ultimates, like The ScorpioAstralArmored BraveScorpion. There is also the red magic Cannonball, which can destroy an ultimate with 20000BP or above. This makes Ultimate-Yamato more vulnerable, with its high BP.
Still, it's a pretty strong ultimate, which can deal well with spirits and ultimates alike. Its strengths are enough to probably outweigh its weaknesses.
Check out the previous Cards of the Month
BS28 has been released. It is the first booster set to include Ultimates with Burst.
BS29 will released on October 25. It will have braves for ultimates, and new ultimates of popular cards, among other things.
Also on October 11, a new starter deck, SD26 will be released.
On october 15, a new starter deck, SD27 will be released. This set is related to the 12 Zodiac X-Rares .
A new anime series is beginning in 2015.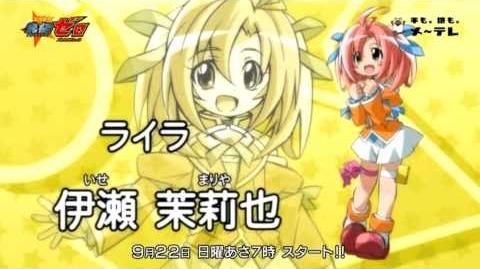 Which of Rei's forms is your favorite(Part 2)?
Click here for the results of previous polls