Home
Talk

2
4,662pages on
this wiki
Welcome to the Battle Spirits Wiki
Battle Spirits, (バトルスピリッツ) is a two-player collectible card game developed by Bandai, Sunrise Inc, and Carddass. The card game is part of the Battle Spirits franchise which revolves around several anime series, manga and the merchandise of toys and video games. Battle Spirits is similar to the TCG Duel Masters but is more evolved as it involves a core system which is used as a resource system for your players. I would like to welcome you to this wiki and I hope that you can be part of our community.
The goal of this wiki is to list every card, set, trivia, gallery, ruling, type of Deck, tournament structure and every anime, manga and video game. If you're a committed Battle Spirits player, or just stopping by, feel free to add in little details to the appropriate sections on this Wiki.

Thank you.
Card of the Month
This month's featured card is The FirstShellEmperor, a green spirit with burst released in BS28.
The card has a cost of eight, with three green reduction. It has two green symbols. Notably, the FirstShellEmperor only has two levels. At LV1, it has 7000 BP. At LV2, for four core, it has 15000. While this BP is high, the spirit is still easily vulnerable to cards like Angel Voice.
FirstShellEmperor's burst effect is one that can only activate when your life is three or less. Then, after exhausting 1 opposing spirit or Ultimate, you can summon this spirit, bypassing its relatively high cost. The bonus effect of being able to exhaust could be very helpful, especially as it is one of those effects with no limitation on BP or level, and can even target Ultimates. So, 50000BP Ultimate-Gai-Asura? No problem.
Aside from the initial burst effect, this spirit has no other effects until level two. But it's certainly a useful one. When it attacks, once per turn you can summon a spirit in the family Shellman at no cost, and refresh this spirit. Since Shellmen have been around since BS01, this opens a good number of possibilities. You could even summon a card such as the cost 9 The Emperor Kaiseratlas. Kaiseratlas could make an interesting combo with The FirstShellEmperor, as you can deal two damage to your opponent's life if it defeats a spirit. Since it's a spirit with a double symbol anyway, that might put you in a win/win situation if your opponent is lacking cards with a high enough BP to defeat it. Then, with an extra attack from the refreshed FirstShellEmperor, you're likely to do a good amount of damage.
Another Shellman that might work well is The HornetKing Fong-Need. When it attacks, you can exhaust opposing spirits with a combined BP of 10000. It will then be easier to go after the life with The FirstShellEmperor's double symbol. Additionally, Fong-Need has an effect to refresh itself.
Aside from having only two levels, as mentioned above, this spirit has a few other weaknesses. Obviously, look out for cards which would prevent your own spirits from refreshing. Additionally, effects like The SilverWolfOfficial By-Rean's could be a pain, which forces players to pay the cost whenever summoning spirits, even through burst effects.
In any case, The FirstShellEmperor is a spirit with some pretty good potential, in a Shellman-centric deck.
Check out the previous Cards of the Month
BS29 has been released.
On November 15, a new starter deck, SD27 will be released. This set is related to the 12 Zodiac X-Rares .
A new anime series is beginning in 2015.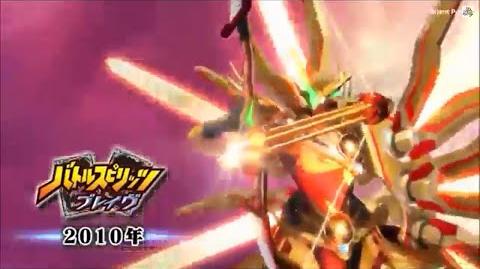 Which of Rei's forms is your favorite(Part 2)?
Click here for the results of previous polls