Home
Talk

2
4,715pages on
this wiki
Welcome to the Battle Spirits Wiki
Battle Spirits, (バトルスピリッツ) is a two-player collectible card game developed by Bandai, Sunrise Inc, and Carddass. The card game is part of the Battle Spirits franchise which revolves around several anime series, manga and the merchandise of toys and video games. Battle Spirits is similar to the TCG Duel Masters but is more evolved as it involves a core system which is used as a resource system for your players. I would like to welcome you to this wiki and I hope that you can be part of our community.
The goal of this wiki is to list every card, set, trivia, gallery, ruling, type of Deck, tournament structure and every anime, manga and video game. If you're a committed Battle Spirits player, or just stopping by, feel free to add in little details to the appropriate sections on this Wiki.

Thank you.
Card of the Month
This month's featured card is a red brave, The MarsDeitySword MarsBringer, which was released in BS29.
The brave has a cost of six, and four reduction (two red symbols and two ultimate symbols.) The ultimate symbols are included of course, because it is one of the braves specifically designed for ultimates, rather than spirits. MarsBringer has one red symbol of its own, also.
The brave condition is an ultimate of cost 6 or more. The spirit has 5000 BP, which is also added to the ultimate it's braved to.
This card has no effects of its own until braved. The first is that it treats the brave as cost 0. This is probably done as a precaution to weaken the Ultimate-Trigger of whatever it's braved to, because having a cost of 12 at the least would be incredibly high. This may seem like a disadvantage, but its second effect is incredibly powerful, making up for it.
As for this second effect, when the cards discarded in your brave-ultimate's ultimate trigger are all cost four or less, the following hit effect occurs in place of the original. First, three ultimates you control are refreshed at the end of your turn. Then, you get to repeat your attack and end steps. It can only be used once per turn, but used to its maximum capabilities, you still get three more attacks from your ultimates, which probably means you can do serious damage to your opponent, if not win outright.
Now, you can cause even more damage if you combine this card with The ConvictionDownfallDragon Judgment-Dragonis. Using its LV3 effect, you can then restart your turn from the beginning once again. Of course, you can only do this once per game. But you repeat all steps this time, including the refresh step, so if you still have those three ultimates, they can make an attack for the third time in one turn.
If you need any more refreshing potential, you may want to try braving it with Ultimate-Gundinos, which has the Assault effect.
This brave is also useful in dealing with cards like Burst Wall. Because even if your attack step is forcibly ended, you still get the chance to do it over.
Of course, despite the potential of this brave, it's a difficult card to use to its full potential. First, you need to get a cost 6 (or more) ultimate out to brave it with, and then at least two more ultimates, which will almost certainly be costly. Also, the odds of getting all cost four or less cards out of Ultimate-Trigger might be low, especially if you're using an ultimate with Double Ultimate-Trigger.
Check out the previous Cards of the Month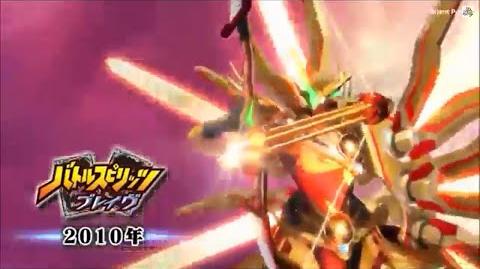 Which of Rei's forms is your favorite(Part 2)?
Click here for the results of previous polls