Berserker-Gun

バーサーカー・ガン

Name
Berserker-Gun
Kanji/Kana
バーサーカー・ガン
Name (English)
Warrior-Gun
Released in (Japanese)
BS01, BSC02, BSC22
Released in (English)
BS01- Call of the Core
Color
White
Cost
1
Reduction
0
Symbols
Family
Machine
Levels
Level 1: 1 core, 1000 BP (Revival: 4000 BP)
Level 2: 2 core, 3000 BP (Revival: 5000 BP)
Flavor Text

English/Japanese
Are they alive? Or are they machines? The odd beings came from the distorted gate floating in the sky. They are blanketing the world.

Japanese
それは命? 機械? 空に浮かぶ歪みの門。

現れたのは異形のものたち。 彼らによって埋め尽くされてゆく世界。

Rarity
Common
Illustration
Atsushi Takeuchi (concept)
Rulings/Restrictions
None
Although Berserker-Gun's name was changed in Bandai's release, its counterpart, Berserker-Magnum, was not.
Appearances:
Edit
Battle Spirits Shounen Toppa Bashin
Battle Spirits Shounen Gekiha Dan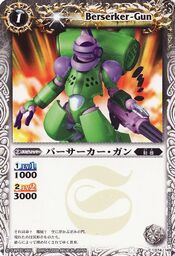 Ad blocker interference detected!
Wikia is a free-to-use site that makes money from advertising. We have a modified experience for viewers using ad blockers

Wikia is not accessible if you've made further modifications. Remove the custom ad blocker rule(s) and the page will load as expected.