Berserker-Magnum

バーサーカー・マグナム

Name
Berserker-Magnum
Kanji/Kana
バーサーカー・マグナム
Released in (Japanese)
BS04
Released in (English)
BS04- Ascension of Dragons
Color
White
Cost
2
Reduction
Symbols
Family
Machine
Levels
Level 1: 1 core, 2000 BP
Level 2: 2 core, 4000 BP
Flavor Text

English/Japanese
An army of machines filled the valley, surrounding the tower almost completely. I wondered what happened to the other places and whether the resistance was futile. The final and greatest counterattack was about to begin.
-From the 8th paragraph of chapter White of "Record of the Strange World" by Wanderer Lolo"-

Rarity
Common
Illustration
Atsushi Takeuchi
Rulings/Restrictions
None
Although this spirits counterpart, Berserker-Gun's name was changed in the English release, Berserker-Magnum's remained the same.
Appearances:
Edit
Battle Spirits Shounen Toppa Bashin
Battle Spirits Shounen Gekiha Dan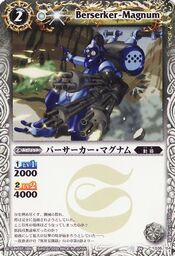 Ad blocker interference detected!
Wikia is a free-to-use site that makes money from advertising. We have a modified experience for viewers using ad blockers

Wikia is not accessible if you've made further modifications. Remove the custom ad blocker rule(s) and the page will load as expected.