Chain-Dragon

チェイン・ドラゴン

Name
Chain-Dragon
Kanji/Kana
チェイン・ドラゴン
Released in (Japanese)
BS04
Released in (English)
BS04- Ascension of Dragons
Color
Red
Cost
3
Reduction
Symbols
Family
Machine Dragon
Levels
Level 1: 1 core, 3000 BP
Level 2: 3 core, 6000 BP
Flavor Text

English/Japanese
The magical roar a group of dinosaurs emitted was blocked completely by his steel body.
-From the fifth paragraph in chapter Red of "Record of the Strange World" by Wanderer Lolo"-

Japanese
恐竜たちが一斉に発した魔力ある咆哮。

しかしそれを鋼の体がすべて弾き返した。 ―放浪者ロロ『異界見聞録』赤の章第6節より―

Rarity
Master Rare
Illustration
Kazue Saitou
Rulings/Restrictions
None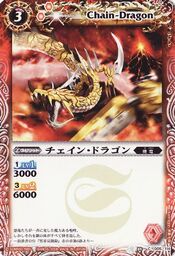 Ad blocker interference detected!
Wikia is a free-to-use site that makes money from advertising. We have a modified experience for viewers using ad blockers

Wikia is not accessible if you've made further modifications. Remove the custom ad blocker rule(s) and the page will load as expected.