Deep-Arnold

ディープ・アーノルド

Name
Deep-Arnold
Kanji/Kana
ディープ・アーノルド
Released in (Japanese)
BS03
Released in (English)
BS03- Scars of Battle
Color
Blue
Cost
4
Reduction
Symbols
Family
Fusion Beast
Levels
Level 1: 1 core, 4000 BP
Level 2: 5 core, 8000 BP
Flavor Text

English/Japanese
The competition is not accepted by everybody. Some people don't believe the existence of "Master Unicorn" and others point out that there are too many events in the competition. They include some people who are not happy with the fact that they don't have wars anymore. We need to watch those people carefully especially in this unstable environment.

Rarity
Common
Illustration
Shigeki Hayashi
Rulings/Restrictions
None
Appearances:
Edit
Battle Spirits Shounen Toppa Bashin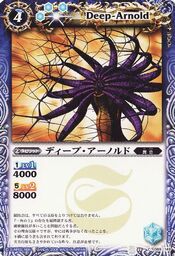 Ad blocker interference detected!
Wikia is a free-to-use site that makes money from advertising. We have a modified experience for viewers using ad blockers

Wikia is not accessible if you've made further modifications. Remove the custom ad blocker rule(s) and the page will load as expected.