Fallenpaladin

フォールンパラディン

Name
Fallenpaladin
Kanji/Kana
フォールンパラディン
Name (English)
Fallen Paladin
Released in (Japanese)
BS05, Galaxy Watanabe Presents- I Love Battle Spirits Special Deck and Drama Set
Released in (English)
BS04- Ascension of Dragons
Color
Purple
Cost
5
Reduction
Symbols
Family
Evil Shadow
Levels
Level 1: 1 core, 4000 BP
Level 2: 3 core, 6000 BP
Level 3: 6 core, 9000 BP
Flavor Text

English/Japanese
The ones who pledged their loyalty to the king are controlled by him. There are some people who sacrificed their lives to let those people be free from him.

Rarity
Common
Illustration
Shinnosuke Hino
Rulings/Restrictions
None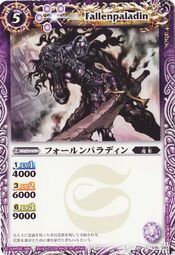 Ad blocker interference detected!
Wikia is a free-to-use site that makes money from advertising. We have a modified experience for viewers using ad blockers

Wikia is not accessible if you've made further modifications. Remove the custom ad blocker rule(s) and the page will load as expected.