Gatlingstand

ガトリングスタンド

Name
Gatlingstand
Kanji/Kana
ガトリングスタンド
Name (Italian)
Postazione di Artiglieria
Released in (Japanese)
BS01, BSC02, Trial Deck Brave, BSC22
Released in (English)
BS01- Call of the Core
Released in (Italian)
SE02
Color
White
Cost
3
Reduction
Symbols
Family
Armed Machine
Levels
Level 1: 1 core, 3000 BP (Revival: 7000 BP)
Level 2: 2 core, 5000 BP (Revival: 11000 BP)
Flavor Text

English/Japanese
Each of the invaders has a different assigned command. He is supposed to march demolishing everything he sees.

Japanese
侵略者ごとにある個々の指令。

彼の役目は攻撃。 あらゆるものを消滅させて、続ける前進。

Rarity
Common
Illustration
Tetsuya Aoki (PLEX)
Rulings/Restrictions
None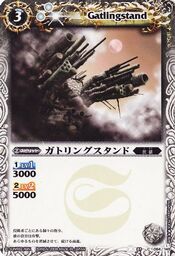 Ad blocker interference detected!
Wikia is a free-to-use site that makes money from advertising. We have a modified experience for viewers using ad blockers

Wikia is not accessible if you've made further modifications. Remove the custom ad blocker rule(s) and the page will load as expected.