Hell-Blindi

ヘル・ブリンディ

Name
Hell-Blindi
Kanji/Kana
ヘル・ブリンディ
Name (English)
Kell-Blindi
Name (Italian)
Marchingegno Infernale
Released in (Japanese)
BS01, BSC02, BSC06, BSC22
Released in (English)
BS01- Call of the Core
Released in (Italian)
SE01
Color
White
Cost
4
Reduction
Symbols
Family
Android
Levels
Level 1: 1 core, 1000 BP
Level 2: 3 core, 3000 BP
Card Effects

Japanese

Lv1・Lv2『このスピリットの召喚時』スピリット1体を、その持ち主の手札に戻す。

Lv1・Lv2『このスピリットの召喚時』相手のスピリット1体を手札に戻す。召喚コストに[ソウルコア]を使用していたら、さらに、自分のスピリット1体を手札に戻す。

Flavor Text

English/Japanese
The one who fires lightning. He is a natural enemy of the flying whales. The ones who live on the back of the flying whales must run around when they face him.

Japanese
雷を放つ者。たゆたう空母鯨の天敵。

鯨に背負われた者たちは、 ただちに逃げねばならない。

Rarity
Uncommon
Illustration
Tetsuya Aoki (PLEX)
Rulings/Restrictions
If summoned when there are no other spirits in play, Hell-Blindi itself must be moved to the hand.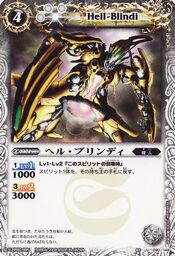 Ad blocker interference detected!
Wikia is a free-to-use site that makes money from advertising. We have a modified experience for viewers using ad blockers

Wikia is not accessible if you've made further modifications. Remove the custom ad blocker rule(s) and the page will load as expected.