Jellfy

ジェルフィ

Name
Jellfy
Kanji/Kana
ジェルフィ
Released in (Japanese)
BS03
Released in (English)
BS03- Scars of Battle
Color
Yellow
Cost
3
Reduction
Symbols
Family
Imp
Levels
Level 1: 1 core, 2000 BP
Level 2: 3 core, 3000 BP
Card Effects

English
[LV2] (When Attacks) If you control a purple spirit, draw 1 card.

Flavor Text

English/Japanese
Rainbow Land's key is buried in the root of the rainbow. To search for the rainbow, we flew on jellyback .
-from the 3rd paragraph in chapter Yellow of "Record of the Strange World" by Wanderer Lolo"-

Japanese
虹の国の鍵は、虹の根元に埋まっている。

わたしたちは虹を探しに、クラゲの背に飛び乗った。 ―放浪者ロロ『異界見聞録』黄の章第3節より―

Rarity
Common
Illustration
Tai Nakashima
Rulings/Restrictions
None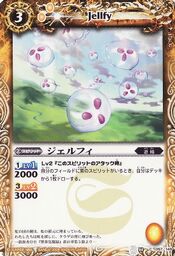 Ad blocker interference detected!
Wikia is a free-to-use site that makes money from advertising. We have a modified experience for viewers using ad blockers

Wikia is not accessible if you've made further modifications. Remove the custom ad blocker rule(s) and the page will load as expected.