Lizardedge

リザドエッジ

Name
Lizardedge
Kanji/Kana
リザドエッジ
Name (Italian)
Lucertola Rasoio
Released in (Japanese)
BS02, BSC01, Trial Deck Brave, Let's Play Battle Spirits!! Starter Kit, Galaxy Watanabe Presents- I Love Battle Spirits Special Deck and Drama Set
Released in (English)
BS02- Rise of Angels
Released in (Italian)
SE01
Color
Red
Cost
0
Reduction
0
Symbols
Family
Reptile Beast
Levels
Level 1: 1 core, 1000 BP
Level 2: 2 core, 2000 BP
Level 3: 4 core, 4000 BP
Flavor Text

English/Japanese
He charges anybody for a couple of meat chops. That's why the battlefield is in chaos now.

Japanese
肉の二、三切れも食わせれば、どこにでも特攻する。

おかげで戦場は大混乱だ。

Italian
Caricherebbe chiunque per un paio di bocconcini. Ecco perché il campo di battaglia è nel caos in questo momento.

Rarity
Common
Illustration
Hiroshi Maruyama (concept)
Rulings/Restrictions
None
Appearances:
Edit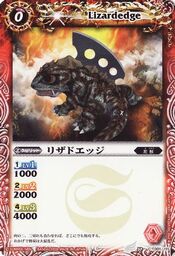 Ad blocker interference detected!
Wikia is a free-to-use site that makes money from advertising. We have a modified experience for viewers using ad blockers

Wikia is not accessible if you've made further modifications. Remove the custom ad blocker rule(s) and the page will load as expected.