Maaya Kurenai
Real Name
Maaya Kurenai
Aliases
N/A
Gender
Female
Age
N/A
Battle Statistics
Preferred Color
Red
X-Rares
The MasterDragonRider Dark-Crimson
Maaya Kurenai (紅真綾) is a character in the manga series Batosupi! We are the Battle Spirits Club.
Appearance
Edit
She is essentially a female Toppa Bashin, with spiked orange hair and red eyes. Her school uniform is a white shirt with a tie, under an off-white jacket, with a short gray skirt and black socks.
Personality
Edit
She tends to act childish, and loves to eat. Her bio in the manga likens her to a dirty old man.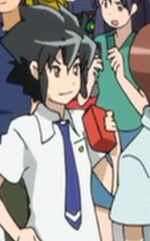 Biography
Edit
Maaya is a first year high school student, and long time best friends with Jun Shiragami. She didn't know about Battle Spirits prior to joining the Battle Spirits club. She played poorly at first, but was eventually able to win a High Ranker Pass.
Her design is based on Toppa Bashin. However, she also has some similarities to Dan Bashin, being able to easily cosplay him, and playing with a Dan-based starter deck.
Her last name, Kurenai, means crimson red.
She appeared in the first episode of Battle Spirits Brave, off-colored.
She is the only female character who uses red as their primary color.
Appearances
Edit
Batosupi! We are the Battle Spirits Club
Battle Spirits Brave (cameo)
Ad blocker interference detected!
Wikia is a free-to-use site that makes money from advertising. We have a modified experience for viewers using ad blockers

Wikia is not accessible if you've made further modifications. Remove the custom ad blocker rule(s) and the page will load as expected.