Metalburn

メタルバーン

Name
Metalburn
Kanji/Kana
メタルバーン
Name (English)
Metalburn
Released in (Japanese)
BS01, BSC22
Released in (English)
BS01- Call of the Core
Color
Red
Cost
3
Reduction
Symbols
Family
Machine Dragon
Levels
Level 1: 1 core, 3000 BP(Revival: 7000 BP)
Level 2: 3 core, 4000 BP(Revival: 9000 BP)
Level 3: 8 core, 8000 BP(Revival: 18000 BP)
Flavor Text

English/Japanese
It was smart of the dragons to have created their bigger copies to make up for their body size. Now, their revenge begins.

Japanese
竜人たちはたいしたもんだ。体のでかさをおぎなうために、やつらのニセモノを作り出した。逆襲の始まりだ。

Rarity
Common
Illustration
Hiroshi Maruyama (concept)
Rulings/Restrictions
None
Appearances:
Edit
Battle Spirits Shounen Toppa Bashin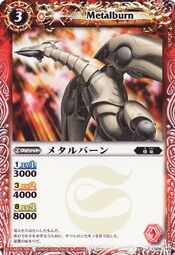 Ad blocker interference detected!
Wikia is a free-to-use site that makes money from advertising. We have a modified experience for viewers using ad blockers

Wikia is not accessible if you've made further modifications. Remove the custom ad blocker rule(s) and the page will load as expected.