Mutsumi Tamura (田村 睦) is a Japanese voice actress who works for I'm Enterprise.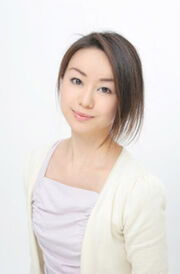 Her debut role was young Kyōsuke in ef: a tale of memories. She is the voice of Toppa Bashin in Battle Spirits Shounen Toppa Bashin, Ranmaru Shikigami in Battle Spirits Burning Soul, and Yoku Albatrosa in Battle Spirits Double Drive. Other major roles include Kio Kakazu in Asobi ni Iku Yo and Sayaka Dejima in Seitokai Yakuindomo.
Ad blocker interference detected!
Wikia is a free-to-use site that makes money from advertising. We have a modified experience for viewers using ad blockers

Wikia is not accessible if you've made further modifications. Remove the custom ad blocker rule(s) and the page will load as expected.