Ovirapt

オヴィラプト

Name
Ovirapt
Kanji/Kana
オヴィラプト
Name (Italian)
Oviraptor
Released in (Japanese)
BS06
Released in (English)
BS05- Dawn of the Ancients
Released in (Italian)
SE01
Color
Red
Cost
1
Reduction
Symbols
Family
Terra Dragon
Levels
Level 1: 1 core, 1000 BP
Level 2: 2 core, 3000 BP
Card Effects

English
[LV1][LV2] (When Summoned) Terra Dragon spirits you control get +1000BP until end of turn.

Italian
[LV1][LV2] (Quando Evocato) Gli spirit "Drago Terrestre" che controlli prendono +1000PB fino alla fine del turno.

Flavor Text

English/Japanese
It's usually the weak who get the short end of the stick, but it seems there are exceptions. They are hiding behind the bigger guys to defend themselves.

Italian
Ai deboli vengono solitamente riservati i trattamenti peggiori, ma sembrano esserci eccezioni. Si nascondono dietro i più grossi per difendersi.

Rarity
Common
Illustration
Yuuya Kobayashi
Rulings/Restrictions
None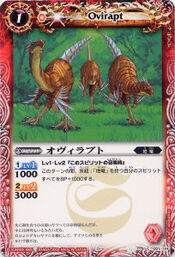 Ad blocker interference detected!
Wikia is a free-to-use site that makes money from advertising. We have a modified experience for viewers using ad blockers

Wikia is not accessible if you've made further modifications. Remove the custom ad blocker rule(s) and the page will load as expected.