Queen-Valkyrie

クイーン・ワルキューレ

Name
Queen-Valkyrie
Kanji/Kana
クイーン・ワルキューレ
Released in (Japanese)
BS01, BSC22
Released in (English)
BS01- Call of the Core
Color
White
Cost
4
Reduction
Symbols
Family
Android
Levels
Level 1: 1 core, 2000 BP
Level 2: 4 core, 4000 BP
Card Effects

Japanese

Lv1・Lv2このスピリットは、相手のスピリット/マジックの効果の対象にならない。

Lv1・Lv2このスピリットは、相手のスピリット/マジックの効果を受けない。

Lv2『このスピリットのバトル時』このスピリットの[ソウルコア]を自分のトラッシュに置くことで、このスピリットは回復する。

Flavor Text

English/Japanese
The blazing flame didn't burn the opponent that time. The Flame Dance that I once had earned in another world vanished in vain.
-from the 5th paragraph in chapter White of "Record of the Strange World" by Wanderer Lolo"-

Japanese
包み込む炎は、しかし相手を焼くことはなかった。

かつて別の世界で学んだ呪文。 フレイムダンスは虚しく霧散した。 ―放浪者ロロ『異界見聞録』白の章第5節より―

Rarity
Common
Illustration
Atsushi Takeuchi (concept)
Rulings/Restrictions
The English version of this card incorrectly states that the card is unaffected by nexuses; it is actually unaffected by magic.
The flavor text on this card makes reference to Flame Dance.
Appearances:
Edit
Battle Spirits Shounen Toppa Bashin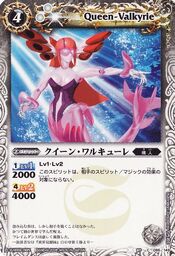 Ad blocker interference detected!
Wikia is a free-to-use site that makes money from advertising. We have a modified experience for viewers using ad blockers

Wikia is not accessible if you've made further modifications. Remove the custom ad blocker rule(s) and the page will load as expected.