Introduction
SD43, entitled Battle Spirits Dream Deck: Bond of Sun and Moon (バトスピドリームデッキ【太陽と月の絆】 Batosupi Dorīmu Dekki [Taiyō to Tsuki no Kizuna]), is the first installment of the Dream Decks series of starter decks released to commemorate the 10th anniversary of Battle Spirits. It is based off the decks used by Dan Bashin and Barone from Battle Spirits Brave.

This starter deck is targeted for release in Japan on April 7, 2018. It will be released together with another Dream Deck pack, SD44. This set will include spirit, magic, brave and nexus cards in colors of red and white.

It will include 17 cards: 13 Commons, 2 Master Rares, & 2 X-Rares.
Set Images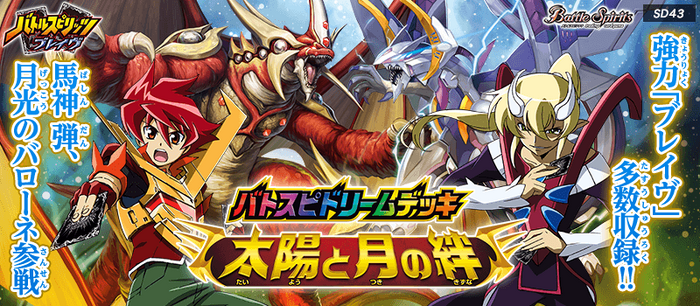 Extra Articles
Overview on Battlespirits.com (Japanese)
Featured Cards on Battlespirits.com (Japanese)
Set Card List (Subject to change later)
Card List
Edit
Reprint Card List
Edit
Campaign Promos
Edit