Sharkhammer

シャークハンマー

Name
Sharkhammer
Kanji/Kana
シャークハンマー
Released in (Japanese)
BS03
Released in (English)
BS03- Scars of Battle
Color
Blue
Cost
3
Reduction
Symbols
Family
Beast Head
Levels
Level 1: 1 core, 3000 BP
Level 2: 3 core, 5000 BP
Card Effects

English
[LV1][LV2] (Permanent) Each time 1 or more nexuses you control are destroyed, if this spirit is exhausted, refresh this spirit.

Flavor Text

English/Japanese
In this event, crushing competition, the giants have a huge advantage against others. However, there is one athlete who has been challenging the giants in this competition. Is he going to make it? I'm so curious.

Rarity
Common
Illustration
Shigeki Hayashi
Rulings/Restrictions
None
Appearances:
Edit
Battle Spirits Shounen Toppa Bashin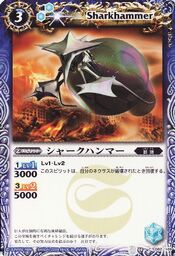 Ad blocker interference detected!
Wikia is a free-to-use site that makes money from advertising. We have a modified experience for viewers using ad blockers

Wikia is not accessible if you've made further modifications. Remove the custom ad blocker rule(s) and the page will load as expected.