Takahiro Sakurai (櫻井 孝宏 ) is a Japanese voice actor who works for 81 Produce.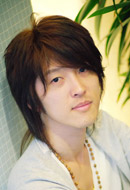 He is the voice of Yuuki Momose in Battle Spirits Shounen Gekiha Dan and Zolder Grave in Battle Spirits Brave. Other major roles include Suzaku Kururugi in Code Geass and Fakir in Princess Tutu.
Ad blocker interference detected!
Wikia is a free-to-use site that makes money from advertising. We have a modified experience for viewers using ad blockers

Wikia is not accessible if you've made further modifications. Remove the custom ad blocker rule(s) and the page will load as expected.