The Absorption Triumphal Arch

力奪う凱旋門

Name
The Absorption Triumphal Arch
Kanji/Kana
力奪う凱旋門
Released in (Japanese)
BS03, BSC04
Released in (English)
BS03- Scars of Battle
Color
Blue
Cost
3
Reduction
Symbols
Levels
Level 1: 0 core
Level 2: 2 core
Card Effects

English
[LV1][LV2] (Permanent) Your opponent can only play spell cards with the same color as the cards they control.

[LV2] (Permanent) Your opponent must play the actual costs of spells they play.

Japanese
Lv1・Lv2

相手は、相手のフィールドにあるシンボルと同じ色のマジックカードしか使用できない。 Lv2 相手はコストを支払わなければ、マジックの効果を使用できない。

Flavor Text

English/Japanese
A gate the was built to commemorate the 2nd competition meeting. A few people visit to see it and it is about to fall into ruin.
-from the Places of Interest 912/1000 of "Record of the Strange World" by Wanderer Lolo"-

Japanese
第2回競技会開催を記念して建てられた門。

今は訪れる者も少なく、静かに朽ち果てようとしている。 ―放浪者ロロ「異界見聞録」名所千選912―

Rarity
Rare
Illustration
N/A
Rulings/Restrictions
None
Appearances:
Edit
Battle Spirits Shounen Toppa Bashin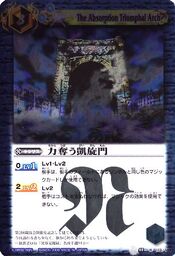 Ad blocker interference detected!
Wikia is a free-to-use site that makes money from advertising. We have a modified experience for viewers using ad blockers

Wikia is not accessible if you've made further modifications. Remove the custom ad blocker rule(s) and the page will load as expected.