The Acrobat Juggline

ナイフ投げのジャグリーン

Name
The Acrobat Juggline
Kanji/Kana
ナイフ投げのジャグリーン
Name (Italian)
Juggline l'Acrobata
Released in (Japanese)
BS02, BSC04
Released in (English)
BS02- Rise of Angels
Released in (Italian)
SE01
Color
Red
Cost
1
Reduction
0
Symbols
Family
Clown
Levels
Level 1: 1 core, 1000 BP
Level 2: 3 core, 3000 BP
Level 3: 5 core, 5000 BP
Card Effects

English
[LV1][LV2][LV3] (Permanent) While you control 2 or less spirits, this spirit is treated as being at LV3.

Japanese
Lv1・Lv2・Lv3 自分のフィールドにスピリットが2体以下しかいない間、このスピリットはLv3として扱う。

Italian
[LV1][LV2][LV3] (Sempre)

Mentre controlli 2 o meno spirit, questo spirit si considera essere di LV3.

Flavor Text

English/Japanese
She is known as an odd one. She has dinosaurs as her pets. She says they are chubby and cute.

Japanese
カワリモノで有名さ。恐竜をペットにしてやがる。

ムッチムチでかわいいんだとよ。

Italian
Di lei si sa che è un po strana. Ha dei dinosauri come animali da compagnia. Dice che sono paffutelli e carini.

Rarity
Uncommon
Illustration
Shikidouji
Rulings/Restrictions
None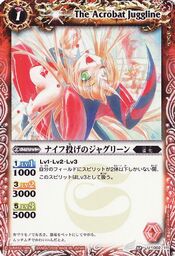 Ad blocker interference detected!
Wikia is a free-to-use site that makes money from advertising. We have a modified experience for viewers using ad blockers

Wikia is not accessible if you've made further modifications. Remove the custom ad blocker rule(s) and the page will load as expected.