The Ancient Dragon Territory

古龍の縄張り

Name
The Ancient Dragon Territory
Kanji/Kana
古龍の縄張り
Released in (Japanese)
BS01, BSC22
Released in (English)
BS01- Call of the Core
Color
Red
Cost
6
Reduction
Symbols
Levels
Level 1: 0 core
Level 2: 3 core
Card Effects

English

[LV1][LV2] (During Your Turn) Each time a spirit is destroyed, move the cores on that spirit to its owner's trash instead of the reserve.

[LV2] (During Your Battle Phase) Each time a spirit you control defeats a spirit, draw 1 card.

[LV1][LV2] (Your Turn) When an opposing spirit is destroyed, one of its cores goes to the void, not the reserve.

[LV2] (Your Attack Step) When an opposing spirit is destroyed, you can summon an "Ancient Dragon" spirit card from your hand without paying the cost.

Japanese

Lv1・Lv2『自分のターン』スピリットが破壊されたとき、そのスピリット上に置かれているコアは、リザーブではなくトラッシュに置かれる。

Lv2『自分のアタックステップ』BPを比べ相手のスピリットだけを破壊したとき、自分はデッキから1枚ドローする。

Lv1・Lv2『自分のターン』相手のスピリットが破壊されたとき、そのスピリットのコア1個は、リザーブではなくボイドに置かれる。

Lv2『自分のアタックステップ』相手のスピリットが破壊されたとき、自分の手札にある系統:「古竜」を持つスピリットカード1枚を、コストを支払わずに召喚できる。

Flavor Text

English/Japanese
The place where dragons used to live. The dragons worship this place and the dry winds still carry the traces of those dragons.
-from the Places of Interest 325/1000 of "Record of the Strange World" by Wanderer Lolo"-

Japanese
かつて、恐竜ではない、真の竜が闊歩した地。

竜人たちは聖地とあがめる。 乾いた風だけが、その面影を誘う。 ―放浪者ロロ「異界見聞録」名所千選325―

Rarity
Common
Illustration
N/A
Rulings/Restrictions
None
Trivia
This card was given out to promote the 1st issue of Kerokero Ace.
Gallery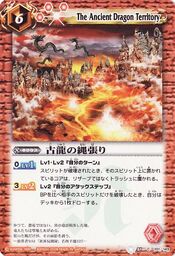 Ad blocker interference detected!
Wikia is a free-to-use site that makes money from advertising. We have a modified experience for viewers using ad blockers

Wikia is not accessible if you've made further modifications. Remove the custom ad blocker rule(s) and the page will load as expected.