The Angelia Dominia

天使ドミニア

Name
The Angelia Dominia
Kanji/Kana
天使ドミニア
Released in (Japanese)
Promo
Released in (English)
Promo
Color
Yellow
Cost
4
Reduction
2 Yellow
Symbols
1 Yellow
Family
Divine Spirit
Levels
Level 1: 1 core, 2000 BP
Level 2: 2 core, 4000 BP
Level 3: 3 core, 5000 BP
Card Effects

English
[LV1][LV2][LV3] (During Your Battle Phase) Each time this spirit gets an addition to its BP due to the effect of a spell, this spirit gets an additional +1000BP until end of turn.

Flavor Text

English/Japanese
I see them very often lately. Don't they have other things to do than watching us? Hey, they just saw me... it's so uncomfortable.

Rarity
Promo
Illustration
Rei
Rulings/Restrictions
None
Related to: The Angelia Angu, The Angelia Virchu, The Angelia Curio, The Angelia Archre, The Angelia Throne, The Angelia Kleio, The Angelia Dunamis, The Angelia Cherubim, The Angelia Olifia, The Angelia Salaty, The Angelia Power, The Angelia Tiael, The Angelia of Olimpics Phul, The Angelia of Olimpics Bethor, The Angelia of Olimpics Phaleg, The Angelia of Olimpics Och, The Angelia of Olimpics Hagith, The TwinAngelia Melodiel, The Angelia of Grimm Hansel, The Angelia of Grimm Gretel
This card was given to participants at the 2008 Gunslinger and, and also as an additional prize for the top 3 winners. It was given to participants at Shop Battles from February - April 2009, and was included with the 5th DVD of Battle Spirits Shounen Toppa Bashin and the first manga volume of Batosupi! We are the Battle Spirits Club.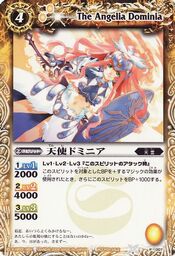 Ad blocker interference detected!
Wikia is a free-to-use site that makes money from advertising. We have a modified experience for viewers using ad blockers

Wikia is not accessible if you've made further modifications. Remove the custom ad blocker rule(s) and the page will load as expected.