The ArmoredDragon Maximillion

鉄騎竜マクシミリオン

Name
The ArmoredDragon Maximillion
Kanji/Kana
鉄騎竜マクシミリオン
Released in (Japanese)
Promo, BSC01
Released in (English)
Promo
Color
Red
Cost
6
Reduction
Symbols
Family
Ancient Dragon
Levels
Level 1: 1 core, 4000 BP
Level 2: 3 core, 6000 BP
Level 3: 6 core, 9000 BP
Flavor Text

English/Japanese
A dragon equipped with an iron armor. He seems to be plotting to conquer the world of red with an army of a million soldiers. This is going to be interesting.

Japanese
重厚な鎧に身を包んだ鉄壁ドラゴン。

百万の軍勢を率いて赤の世界の覇権を狙う気だ。 こりゃあ、一波乱あるかもな。

Rarity
Promo
Illustration
Sakichi Funaya
Rulings/Restrictions
None
This card was given to participants in the 2008 Battle Spirits Festa Gunslinger and was also included with a guidebook.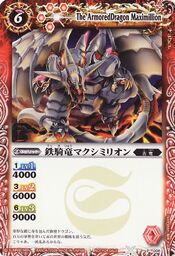 Ad blocker interference detected!
Wikia is a free-to-use site that makes money from advertising. We have a modified experience for viewers using ad blockers

Wikia is not accessible if you've made further modifications. Remove the custom ad blocker rule(s) and the page will load as expected.