The BattleAxe Apollodinos

戦斧のアポロディノス

Name
The BattleAxe Apollodinos
Kanji/Kana
戦斧のアポロディノス
Name (Italian)
Apollodinos, Ascia da Battaglia
Released in (Japanese)
BS06
Released in (English)
BS05- Dawn of the Ancients
Released in (Italian)
SE01
Color
Red
Cost
5
Reduction
Symbols
Family
Dragon, Deified General
Ability
Evolution (Awaken)
Levels
Level 1: 1 core, 4000 BP
Level 2: 3 core, 6000 BP
Level 3: 5 core, 9000 BP
Card Effects

English
[LV1][LV2][LV3] (Permanent) The cost of "Vanity Deity" spirit cards in your hand are treated as 6.

[LV1][LV2][LV3] Flash Evolution - You may move any number of cores from spirits you control to this spirit.

[LV2][LV3] (During Your Battle Phase) Each time a spirit you control with Rage defeats a spirit, if this spirit is exhausted, refresh this spirit.

Japanese
Lv1・Lv2・Lv3自分の手札にある系統:「虚神」を持つスピリットカードすべてのコストを6にする。

Lv1・Lv2・Lv3:フラッシュ【覚醒】自分のスピリット上から、コアを好きなだけこのスピリット上に置くことができる。 Lv2・Lv3『自分のアタックステップ』【激突】を持つ自分のスピリットが、BPを比べ相手のスピリットだけを破壊したとき、このスピリットは回復する。

Italian
[LV1][LV2][LV3] (Sempre) Il costo delle carte spirit "Divinità Vanesia" nella tua mano si considera essere 6.

[LV1][LV2][LV3] Evoluzione (Azione Lampo) Puoi spostare un qualsiasi numero di nuclei dagli spirit che controlli su questo spirit.

[LV2][LV3] (Durante la Tua Fase di Battaglia) Ogni volta che uno spirit che controlli con Impatto Devastante sconfigge uno spirit, se questo spirit è impegnato, disimpegna questo spirit.

Flavor Text

English/Japanese
We have an uninvited guest. Let's leave here.

Japanese
エゲツナイのを呼び出しやがって……オレたちもずらかろう。

Italian
Abbiamo un ospite inatteso. Lasciamo questo posto.

Rarity
Rare
Illustration
Keiji Asakawa
Rulings/Restrictions
None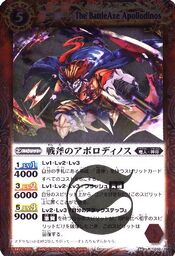 Ad blocker interference detected!
Wikia is a free-to-use site that makes money from advertising. We have a modified experience for viewers using ad blockers

Wikia is not accessible if you've made further modifications. Remove the custom ad blocker rule(s) and the page will load as expected.