The Doom Coffin

魔帝の寝所

Name
The Doom Coffin
Kanji/Kana
魔帝の寝所
Name (Italian)
Bara del Fato
Released in (Japanese)
BS06
Released in (English)
BS05- Dawn of the Ancients
Released in (Italian)
SE01
Color
Purple
Cost
6
Reduction
Symbols
Levels
Level 1: 0 core
Level 2: 3 core
Card Effects

English
[LV1][LV2] (During Opponent's Main Phase) Each time a player puts 1 or more cores on a spirit except due to an effect, exhaust that spirit

[LV2] (During Opponent's Battle Phase) Each time a spirit attacks, move 1 core from that spirit to its owner's Trash.

Flavor Text

English/Japanese
To battle against the Empty Sky, demons dug open the gates of the former rulers. They intended to bring the rulers back to life as powerful warriors. The result was-
-from the Places of Interest 454/1000 of "Record of the Strange World" by Wanderer Lolo"-

Rarity
Common
Illustration
Kankurou
Rulings/Restrictions
None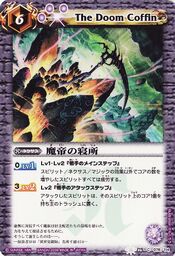 Ad blocker interference detected!
Wikia is a free-to-use site that makes money from advertising. We have a modified experience for viewers using ad blockers

Wikia is not accessible if you've made further modifications. Remove the custom ad blocker rule(s) and the page will load as expected.