The FloatingFish Molamola

浮遊魚モラモラー

Name
The FloatingFish Molamola
Kanji/Kana
浮遊魚モラモラー
Name (Italian)
Molamola, Pesce Fluttuante
Released in (Japanese)
BS06
Released in (English)
BS05- Dawn of the Ancients
Released in (Italian)
SE01
Color
White
Cost
2
Reduction
Symbols
Family
Flying Fish
Levels
Level 1: 1 core, 1000 BP
Level 2: 3 core, 5000 BP
Flavor Text

English/Japanese
The singers' defeat seemed imminent and unavoidable. However, an attack from the Empty Sky changed the war situation completely by making the tower gates and the besieging army vanish all at once.
-from the 8th paragraph in chapter White of "Record of the Strange World" by Wanderer Lolo"-

Rarity
Common
Illustration
Katsumi Aizaki
Rulings/Restrictions
None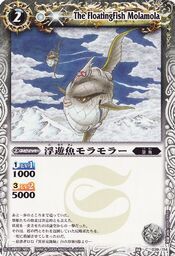 Ad blocker interference detected!
Wikia is a free-to-use site that makes money from advertising. We have a modified experience for viewers using ad blockers

Wikia is not accessible if you've made further modifications. Remove the custom ad blocker rule(s) and the page will load as expected.