The GiantKnight Aldous

巨人騎士アルダス

Name
The GiantKnight Aldous
Kanji/Kana
巨人騎士アルダス
Released in (Japanese)
BS05, BSC07
Released in (English)
BS04- Ascension of Dragons
Color
Blue
Cost
5
Reduction
Symbols
Family
Fighting Spirit, Soldier
Levels
Level 1: 1 core, 5000 BP
Level 2: 4 core, 7000 BP
Card Effects

English
[LV1][LV2] (Permanent) Nexuses you control cannot be destroyed by your opponent's effects.

[LV2] (When Attacks) Move 2 cards from the top of your opponent's Deck to their Trash for each nexus you control. No more than 6 cards can be moved due to this effect.

Flavor Text

English/Japanese
One swing was enough to blow the dogs away from his arm. Is he going to overwhelm the opponent who has an advantage in numbers?
-from the 3rd paragraph in chapter blue of "Record of the Strange World" by Wanderer Lolo-"

Rarity
Master Rare
Illustration
Takuhito Kusanagi
Rulings/Restrictions
None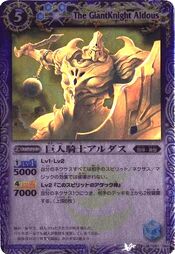 Ad blocker interference detected!
Wikia is a free-to-use site that makes money from advertising. We have a modified experience for viewers using ad blockers

Wikia is not accessible if you've made further modifications. Remove the custom ad blocker rule(s) and the page will load as expected.