The HeadlessKnight Durahan

首無し騎士デュラハン

Name
The HeadlessKnight Durahan
Kanji/Kana
首無し騎士デュラハン
Released in (Japanese)
Promo, Battle Spirits Brave Choco Snack
Released in (English)
Promo
Color
Purple
Cost
4
Reduction
Symbols
Family
Darkling, Mounted Warrior
Levels
Level 1: 1 core, 3000 BP
Level 2: 3 core, 5000 BP
Level 3: 5 core, 7000 BP
Flavor Text

English/Japanese
He once challenged the ruler and became a shadow of his former self. Though he lost his life and body, his battle never ends.

Japanese
かつて、支配者に挑み、散っていった者の成れの果て。

命を失い、身体を失っても、彼の戦いは終わらない。

Rarity
Promo
Illustration
Hideaki Fujii
Rulings/Restrictions
None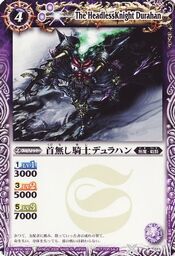 Ad blocker interference detected!
Wikia is a free-to-use site that makes money from advertising. We have a modified experience for viewers using ad blockers

Wikia is not accessible if you've made further modifications. Remove the custom ad blocker rule(s) and the page will load as expected.