The HeavyJavelin Morgan

重槍のモーガン

Name
The HeavyJavelin Morgan
Kanji/Kana
重槍のモーガン
Name (Italian)
Morgan, Giavellotto Pesante
Released in (Japanese)
BS06
Released in (English)
BS05- Dawn of the Ancients
Released in (Italian)
SE01
Color
Blue
Cost
5
Reduction
Symbols
Family
Fighting Spirit, Deified General
Levels
Level 1: 1 core, 4000 BP
Level 2: 3 core, 6000 BP
Card Effects

English
[LV1][LV2] (When Summoned) Destroy all spirits your opponent controls with a cost of 4.

[LV1][LV2] (Permanent) The cost of "Vanity Deity" spirit cards in your hand are treated as 6.

[LV2] (Permanent) This spirit gets +1000BP for each "Fighting Spirit" spirit you control.

Japanese
Lv1・Lv2自分の手札にある系統:「虚神」を持つスピリットカードすべてのコストを6にする。

Lv1・Lv2『このスピリットの召喚時』相手のコスト4のスピリットすべてを破壊する。 Lv2系統:「闘神」を持つ自分のスピリット1体につき、このスピリットをBP+1000する。

Flavor Text

English/Japanese
In terms of muscular strength, the soldiers of the Empty Sky are not as exceptional as the powerful athletes of the Battle Olympia. However, their energy is inexhaustible!

Japanese
力だけならバトルオリンピアに出場した猛者たちほどに、

虚無の戦士は強くありません。 しかし、彼らは疲れを知らず立ち向かってくるのです。

Rarity
Rare
Illustration
Koji
Rulings/Restrictions
None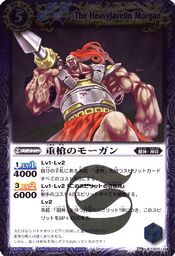 Ad blocker interference detected!
Wikia is a free-to-use site that makes money from advertising. We have a modified experience for viewers using ad blockers

Wikia is not accessible if you've made further modifications. Remove the custom ad blocker rule(s) and the page will load as expected.