The HellAirMan Buney

冥空士ブーネイ

Name
The HellAirMan Buney
Kanji/Kana
冥空士ブーネイ
Name (Italian)
Buney Aviatore Infernale
Released in (Japanese)
BS06
Released in (English)
BS05- Dawn of the Ancients
Released in (Italian)
Serie 1
Color
Purple
Cost
3
Reduction
Symbols
Family
Infernal Lord
Levels
Level 1: 1 core, 3000 BP
Level 2: 3 core, 5000 BP
Level 3: 6 core, 8000 BP
Flavor Text

English/Japanese
If it were not for him, we would be unable to believe the fact that the demons and the former rulers formed an alliance.

Rarity
Common
Illustration
Takehito Aoi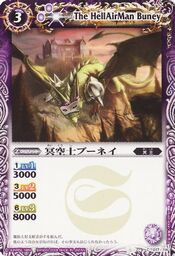 Ad blocker interference detected!
Wikia is a free-to-use site that makes money from advertising. We have a modified experience for viewers using ad blockers

Wikia is not accessible if you've made further modifications. Remove the custom ad blocker rule(s) and the page will load as expected.