The Infinite Mother Ship

無限なる軌道母艦

Name
The Infinite Mother Ship
Kanji/Kana
無限なる軌道母艦
Name (Italian)
Nave Madre dell' Infinito
Released in (Japanese)
BS06
Released in (English)
BS05- Dawn of the Ancients
Released in (Italian)
SE01
Color
White
Cost
3
Reduction
Symbols
Levels
Level 1: 0 core
Level 2: 2 core
Card Effects

English
[LV1][LV2] (Permanent) "Android" and "Machine" spirits you control get "Armed Machine" characteristic.

[LV2] (During Your Battle Phase) Each time an "Armed Machine" spirit you control is defeated, it is moved to its owner's hand instead of their Trash.

Flavor Text

English/Japanese
The dreaded weapon and base of the invaders. This ship later became the home of the singers who, after leaving their tower, boarded it to fill the world with their singing voices.
-from the Places of Interest 516/1000 of "Record of the Strange World" by Wanderer Lolo"-

Rarity
Uncommon
Illustration
Sakichi Funaya
Rulings/Restrictions
None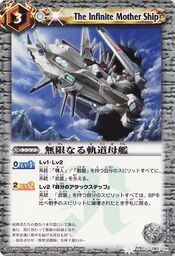 Ad blocker interference detected!
Wikia is a free-to-use site that makes money from advertising. We have a modified experience for viewers using ad blockers

Wikia is not accessible if you've made further modifications. Remove the custom ad blocker rule(s) and the page will load as expected.