The KingSnake Quetzalcoatl

王蛇ケツァルカトル

Name
The KingSnake Quetzalcoatl
Kanji/Kana
王蛇ケツァルカトル
Released in (Japanese)
BS04, BSC06
Released in (English)
BS04- Ascension of Dragons
Color
Purple
Cost
8
Reduction
Symbols
Family
Dark Snake
Levels
Level 1: 1 core, 4000 BP
Level 2: 3 core, 6000 BP
Level 3: 6 core, 9000 BP
Card Effects

English
[LV1][LV2][LV3] (When Summoned) Draw 2 cards.

[LV2][LV3] (When Attacks) You may discard any number of cards from your hand. In that case, select an equal number of spirits your opponent controls and move 1 core from each of them to their owner's Trash.

Flavor Text

English/Japanese
The creature is the embodiment of wisdom. We are so lucky to see it with our own eyes.

Rarity
Master Rare
Illustration
Takahito Aoi
Rulings/Restrictions
None
Related to: Ultimate-Quetzalcoatl
Quetzcoatl is an Mesoamerican deity whose name means "feathered serpent". Among the Aztecs, Quetzcoatl is related to the gods of the wind.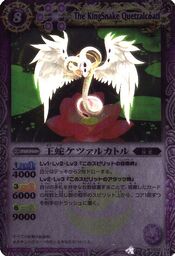 Ad blocker interference detected!
Wikia is a free-to-use site that makes money from advertising. We have a modified experience for viewers using ad blockers

Wikia is not accessible if you've made further modifications. Remove the custom ad blocker rule(s) and the page will load as expected.