The PhantomLord Rean

幻獣王リーン

Name
The PhantomLord Rean
Kanji/Kana
幻獣王リーン
Released in (Japanese)
BS05
Released in (English)
BS04- Ascension of Dragons
Color
Yellow
Cost
9
Reduction
Symbols
Family
Imaginary Beast
Ability
Tribute
Levels
Level 1: 1 core, 5000 BP
Level 2: 2 core, 6000 BP
Level 3: 4 core, 8000 BP
Card Effects

English
Tribute: Cost 6 or more → Void - After paying for the summoning cost, you must send all core from one of your Cost 6 or more spirits to the Void.

[LV1][LV2][LV3] (When Summoned) For every opposing nexus, return one opposing spirit to the hand.

[LV3] (When Attacks) When you have three or more Cost 2 spirits on your field, this spirit can't be blocked by spirits with printed effects.

Flavor Text

English/Japanese
They say that there is a legendary king in the land of the beasts.

Rarity
X-Rare
Illustration
Hirata Ryou
Rulings/Restrictions
None
Related to: The KylinStarBeast Rean, Ultimate-Rean
Qilin are mythical creatures that are present in Chinese and other East Asian cultures, said to appear if a well-known ruler or a sage is going to arrive, and hence are associated with good luck. They are chimerical creatures, and are often times depicted with fire all over their body.
Appearances:
Edit
Battle Spirits Shounen Toppa Bashin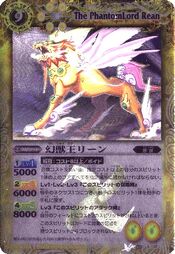 Ad blocker interference detected!
Wikia is a free-to-use site that makes money from advertising. We have a modified experience for viewers using ad blockers

Wikia is not accessible if you've made further modifications. Remove the custom ad blocker rule(s) and the page will load as expected.