The Postman Pentan

郵便ペンタン

Name
The Postman Pentan
Kanji/Kana
郵便ペンタン
Released in (Japanese)
BS04
Released in (English)
BS04- Ascension of Dragons
Color
Yellow
Cost
4
Reduction
Symbols
Family
Song Bird, Drifting Spirit
Levels
Level 1: 1 core, 2000 BP
Level 2: 2 core, 3000 BP
Level 3: 4 core, 4000 BP
Card Effects

English
[LV3] (Your Draw Step) If you control a total of 3 or more spirits that have "Pentan" or "Empereur" in their names, draw 1 card.

Flavor Text

English/Japanese
As you know, the key found in the land of penguin turned out to be a fake. Why is he walking so slowly as if nothing had happened?

Rarity
Common
Illustration
Poporucha
Rulings/Restrictions
None
Appearances:
Edit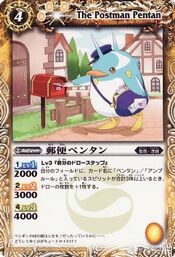 Ad blocker interference detected!
Wikia is a free-to-use site that makes money from advertising. We have a modified experience for viewers using ad blockers

Wikia is not accessible if you've made further modifications. Remove the custom ad blocker rule(s) and the page will load as expected.