The RoseLady Barossa

薔薇人バロッサ

Name
The RoseLady Barossa
Kanji/Kana
薔薇人バロッサ
Released in (Japanese)
BS03
Released in (English)
BS03- Scars of Battle
Color
Yellow
Cost
6
Reduction
Symbols
Family
Fairy
Levels
Level 1: 1 core, 3000 BP
Level 2: 4 core, 6000 BP
Card Effects

English
[LV2] (During Your Battle Phase) You may play yellow spell cards from your hand without paying their cost.

Flavor Text

English/Japanese
"Flower Land's key whereabouts are known by Spring"... "Spring" is about the season, right? Hey, what is it about? Think with me!"

Japanese
花の国の鍵のありかは、春が知ってるんだって……。

春って季節のことだよね? ねぇ、どういうこと? 一緒に考えてよ!

Rarity
Rare
Illustration
Rei
Rulings/Restrictions
None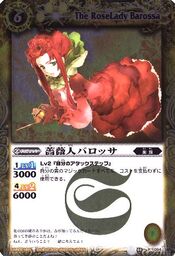 Ad blocker interference detected!
Wikia is a free-to-use site that makes money from advertising. We have a modified experience for viewers using ad blockers

Wikia is not accessible if you've made further modifications. Remove the custom ad blocker rule(s) and the page will load as expected.