The Ruby Volcanic Bombs

紅玉の火山弾

Name
The Ruby Volcanic Bombs
Kanji/Kana
紅玉の火山弾
Name (Italian)
Bombe Vulcaniche di Rubino
Released in (Japanese)
BS06
Released in (English)
BS05- Dawn of the Ancients
Released in (Italian)
SE01
Color
Red
Cost
3
Reduction
Symbols
Levels
Level 1: 0 core
Level 2: 2 core
Card Effects

English
[LV1][LV2] (Permanent) Each time a "Terra Dragon" spirit you control is defeated or moved to its owner's hand, destroy target spirit your opponent controls with 3000BP or less.

[LV2] (Permanent) Red spirits you control get the following effect text:

[Any LV] (When Attacks) You may exhaust target "Terra Dragon" spirit you control. In that case, that exhausted spirit's BP is added to this spirit's until end of turn.

Italian
[LV1][LV2] (Sempre) Ogni volta che uno spirit "Drago Terrestre" che controlli viene sconfitto o spostato nella tua mano, distruggi uno spirit bersaglio controllato dal tuo avversario con 3000PB o meno.

[LV2] (Sempre) Gli spirit rossi che controlli prendono i seguenti effetti: [Qualsiasi LV] (Quando Attacca) Puoi impegnare uno spirit "Drago Terrestre" bersaglio che controlli. Se lo fai, i PB di quello spirit impegnato vengono aggiunti a questo spirit fino alla fine del turno.

Flavor Text

English/Japanese
One of the strongholds of the dinosaurs. They fought a fierce battle against an assassin here.
-from the Places of Interest 232/1000 of "Record of the Strange World" by Wanderer Lolo"-

Italian
Una delle fortezze dei dinosauri. Qui hanno combattuto una feroce battaglia contro un assassino.

- da "Luoghi di Interesse 232/1000" in "Memorie dello Strano Mondo" di Lolo il Vagabondo -

Rarity
Common
Illustration
Katsumi Aizaki
Rulings/Restrictions
None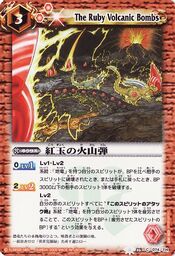 Ad blocker interference detected!
Wikia is a free-to-use site that makes money from advertising. We have a modified experience for viewers using ad blockers

Wikia is not accessible if you've made further modifications. Remove the custom ad blocker rule(s) and the page will load as expected.