The VampireKnight Nosferat

吸血騎士ノスフェラト

Name
The VampireKnight Nosferat
Kanji/Kana
吸血騎士ノスフェラト
Released in (Japanese)
BS03, Galaxy Watanabe Presents- I Love Battle Spirits Special Deck and Drama Set
Released in (English)
BS03- Scars of Battle
Color
Purple
Cost
8
Reduction
Symbols
Family
Nightling, Mounted Warrior
Levels
Level 1: 1 core, 4000 BP
Level 2: 4 core, 8000 BP
Card Effects

English
[LV1][LV2] (When Attacks) This spirit cannot be blocked by LV1 spirits this turn.

[LV2] (During Your Battle Phase) All spirits you control with Curse cannot be blocked by LV1 spirits.

Flavor Text

English/Japanese
Human beings are just prey to the vampires. If we become extinct, so do they. Finally, the nightlings have rebelled against the king.

Rarity
Master Rare
Illustration
Jun Suemi
Rulings/Restrictions
None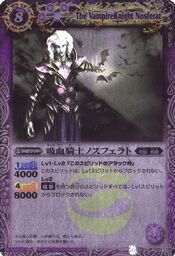 Ad blocker interference detected!
Wikia is a free-to-use site that makes money from advertising. We have a modified experience for viewers using ad blockers

Wikia is not accessible if you've made further modifications. Remove the custom ad blocker rule(s) and the page will load as expected.