The ZombieDragon Zom-Sauru

骸竜ゾン・サウル

Name
The ZombieDragon Zom-Sauru
Kanji/Kana
骸竜ゾン・サウル
Name (Italian)
Zom-Sauru, Drago Zombie
Released in (Japanese)
BS04, SD04, BSC09
Released in (English)
BS04- Ascension of Dragons
Released in (Italian)
SE01
Color
Red
Cost
3
Reduction
Symbols
Family
Terra Dragon, Zombie
Levels
Level 1: 1 core, 2000 BP
Level 2: 3 core, 5000 BP
Level 3: 6 core, 6000 BP
Card Effects

English
[LV1][LV2][LV3] (During Your Battle Phase) Purple spirits you control get +1000BP.

[LV3] (When Attacks) Destroy target exhausted spirit.

Japanese
Lv1・Lv2・Lv3『自分のアタックステップ』

自分の紫のスピリットすべてをBP+1000する。 Lv3『このスピリットのアタック時』 疲労状態のスピリット1体を破壊する。

Italian
[LV1][LV2][LV3] (Durante la Tua Fase di Battaglia) Gli spirit viola che controlli prendono +1000PB.

[LV3] (Quando Attacca) Distruggi uno spirit impegnato bersaglio.

Flavor Text

English/Japanese
It seems that they are such bad losers that they cannot accept defeat even in death.

Japanese
負けを認められないってのか?

化けて出るとは往生際の悪い奴らだ。

Italian
Sembra che siano incapaci di accettare la sconfitta, persino dopo la morte.

Rarity
Uncommon
Illustration
Kankurou
Rulings/Restrictions
None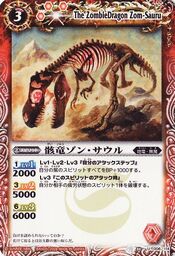 Ad blocker interference detected!
Wikia is a free-to-use site that makes money from advertising. We have a modified experience for viewers using ad blockers

Wikia is not accessible if you've made further modifications. Remove the custom ad blocker rule(s) and the page will load as expected.