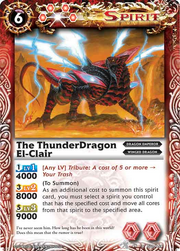 Tribute (転召, tenshou) is an effect of certain spirits. Spirits with this effect have the following text:
Tribute: Cost X or more → Zone - After paying for the summoning cost, you must send all core from one of your Cost X or more spirits to the Zone.
This summoning condition cannot be bypassed, except by certain effects like The MasterDragonRider Dark-Crimson.
Related Articles
Edit
Ad blocker interference detected!
Wikia is a free-to-use site that makes money from advertising. We have a modified experience for viewers using ad blockers

Wikia is not accessible if you've made further modifications. Remove the custom ad blocker rule(s) and the page will load as expected.