Ur-Dine

ウル・ディーネ

Name
Ur-Dine
Kanji/Kana
ウル・ディーネ
Released in (Japanese)
BS01, BSC22
Released in (English)
BS01- Call of the Core
Color
White
Cost
3
Reduction
Symbols
Family
Evil Deity
Levels
Level 1: 1 core, 1000 BP
Level 2: 2 core, 2000 BP
Card Effects

Japanese

Lv1・Lv2『このスピリットのアタック時』ボイドから、コア1個を自分のリザーブに置く。

Lv1・Lv2『このスピリットのアタック時』ボイドからコア1個を自分のリザーブに置く。

Lv2『このスピリットの破壊時』このスピリットに[ソウルコア]が置かれている間、このスピリットは疲労状態でフィールドに残る。

Flavor Text

English/Japanese
"The world is dying." She said in a desperate voice over the silent back of the companion. "The humans and the earth both have lost the energy."
-From the 3rd paragraph in chapter White of "Record of the Strange World" by Wanderer Lolo"-

Japanese
「世界が死んでいってるのよ」

あきらめ顔の彼女の声が、同行者の無言の背中ごしに聞こえてきた。 「失われたのは活力、人も大地も」 ―放浪者ロロ『異界見聞録』白の章第3節より―

Rarity
Common
Illustration
Rika Suzuki
Rulings/Restrictions
None
Trivia:
Related to: Skuldia, Ver-Thandia, High Elixir
Gallery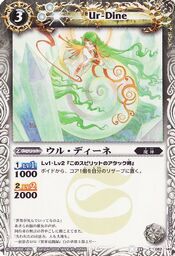 Ad blocker interference detected!
Wikia is a free-to-use site that makes money from advertising. We have a modified experience for viewers using ad blockers

Wikia is not accessible if you've made further modifications. Remove the custom ad blocker rule(s) and the page will load as expected.