V Jump
(Vジャンプ) is a Japanese monthly manga magazine published by Shueisha.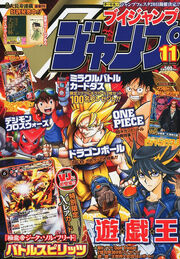 V Jump, in the same line as the more-known Shonen Jump, is a Japanese magazine, specializing on video/arcade games based on manga and card games. A limited number of manga titles are serialized in it. It included Battle Spirits manga and information for a year, before it was moved to the Saikyo Jump magazine.
The following Battle Spirits titles were serialized in this magazine:
Bonus Gifts
Edit
Exclusive Battle Spirits cards and other items have been included.
Ad blocker interference detected!
Wikia is a free-to-use site that makes money from advertising. We have a modified experience for viewers using ad blockers

Wikia is not accessible if you've made further modifications. Remove the custom ad blocker rule(s) and the page will load as expected.